Selecting an Eco-Friendly Vehicle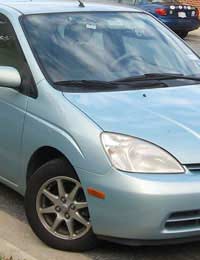 Reconciling green principles with a love – or need – of driving can sometimes seem an almost impossible goal. For all the criticism of cars, however well founded, there are times when they are the only thing that will do, particularly if you live outside of the public transport network of a major town or city. So how can you best match convenience with your own conscience and select an eco-friendly vehicle to drive around?
Although recent years have seen an upsurge in the numbers and varieties of cars offering various environmental advantages, in essence there are only three main types. There are those which use some form of alternative power, those which use conventional petrol or diesel, but do so more efficiently, either in terms of fuel consumption or reduced emissions, or one of the "hybrids" which marry the two.
The Alternative Route
Conversions to Liquefied Petroleum Gas (LPG) have been around for years to allow the use of a fuel which is both cheaper and cleaner than petrol and some manufacturers, such as GM/Vauxhall, now offer this option on a number of new models. The LPG-converted Smart – a fairly green car to begin with, even in its conventional fuel form – is one of the leaders in this particular class and certainly a vehicle to consider.
Compressed Natural Gas (CNG) is another alternative fuel and even cleaner than LPG, although despite Volvo offering most of their range with this option, with fewer than 50 filling stations around the country, it is unlikely to be a serious contender at the moment.
Electric cars have also been available for some time, though the current versions are considerably more refined than some of their predecessors. Their short range still dictates that they remain largely restricted to the role of urban run-around, but with zero direct emissions at street level, they make a significant contribution to reducing pollution in our towns and cities. However, the electricity they use demands them to be regularly plugged into the grid to recharge – so they cannot be regarded as entirely "green" as they are sometimes seen. Never-the-less, the electric G-Wiz – described as the "greenest car available" – with its 40mph top speed and a range of 40 miles, is worth a good look if it meets your transport needs.
Hybrids
Although there are not many types of hybrid car currently on sale in the UK, they are probably the most practical option available – combining a small conventional petrol or diesel engine with an electric generator/motor unit. This replaces both the traditional starter motor and the alternator, allowing the engine to generate electricity to power the motor. When the motor is not being driven – when the car is going down hill or when braking heavily, for instance – the electricity generated is diverted to top up the battery pack instead. Most of today's production models have both the engine and the motor connected to the car's transmission system, allowing the vehicle to run as much as possible just on electric power and only using its internal combustion engine to give extra power when needed.
Generally hybrids carry a 10 – 20 per cent higher price tag than similar conventional vehicles, but they do benefit from low road tax and, although a recent "Which?" survey queried some of their fuel economy performance, they do have significantly lower CO2 level emissions. If the hybrid idea appeals, vehicles such as the Honda Civic IMA, the Lexus 400h SUV and the Toyota Prius are certainly worth thinking about.
Carefully Conventional
Things have moved on a long way in the design of conventional vehicles too – the "gas-guzzler" label being deserved by fewer and fewer types of cars, compared with even a few years ago. Fuel efficiencies have improved and emissions fallen, as a result of both the car manufactures' efforts to produce better engines and the oil companies' work to develop cleaner fuels. With mpg and CO2 figures published for all new models, it is now a relatively simple thing to compare any number of different cars to find the greenest option. Diesels are probably a good choice in general, especially since bio-diesel – which can be used in any diesel engine, in most cases without modification and mixed with ordinary diesel fuel if needs be – seems poised to become more widely available in the future. Many of the current generation of small diesel-engine cars offer impressive fuel economy and low emissions, such as the Citroen C2 1.4 Diesel, which returns 68.9mpg under optimum conditions and releases only 107g of C02 per km when using conventional diesel.
As a nation, despite our increasingly well developed green consciences, we seem unlikely to end our enduring love affair with the car in the near future. However, given the growing economic and tax incentives to abandon large and thirsty models, opting to change to an eco-friendly vehicle can provide some significant personal benefits to go with the planetary ones.
You might also like...