Are Biofuels Really the Way Ahead?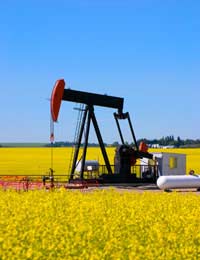 As environmental awareness has grown transport in general has come under increasing pressure to improve its eco-credentials and while car-use and long-haul flights have tended to bear the brunt of this, the benefits of going green are clear to all. One avenue which has received particular attention is the potential of biofuels to act as carbon-neutral alternatives to replace their conventional counterparts. However, in the same year as Virgin Trains launched Europe's first bio-diesel train – running on a fuel which should offer significant CO2 reductions – some serious voices of dissent were heard over the wisdom of pursuing the whole biofuels agenda. So, attractive though they may seem, are biofuels really the way ahead?
Biofuel Benefits
Many countries around the world certainly seem to think so. A study by the Worldwatch Institute found that the global production of all forms of biofuels rose to 44 billion litres in 2006 – a 28 per cent increase. Bio-diesel – a clean burning and entirely renewable fuel, free of aromatics and sulphur – seems to be particularly favoured. Production has risen by 80 per cent and although fuel efficiency is around one per cent lower than conventional fuels, bio-diesel offers better lubrication and greater bio-degradation, which more than offsets any slight reduction in performance.
Virgin Train's pioneering trial – running one of its Voyager trains on a 20 per cent blend of bio-diesel – has much to recommend it; although railways are the "greenest" mode of mass transportation, their annual diesel usage remains enormous. The Union Internationale des Chemins de Fer has estimated that as much as 35,000 million litres are used globally, each year. If Virgin were to change its entire fleet of Voyagers to the fuel, carbon emissions could fall by up to 14 per cent – an annual total of 34,500 tonnes less CO2 – the equivalent of taking around 23,000 cars off the road.
Biofuels have also been promoted for road transport. Once again bio-diesel stands in the fore front, with a number of high profile celebrities around the world opting to run their cars on it.There are sound reasons behind this apparent focus on bio-diesel; its use has been approved by most of the world's major engine manufacturers and it requires no modifications to be used. By contrast, other biofuels, such as ethanol and methanol, require special "flexible fuel vehicles"– an idea which has, at least so far, found little favour amongst UK motorists.
Food or Fuel?
However, despite widespread agreement that renewable biofuels offer an excellent alternative to traditional petroleum products, especially as a way of reducing the damage done by vehicle emissions, serious concerns have recently emerged. Perhaps surprisingly, these notes of caution have come not from the oil companies, but rather from those which might be thought of as natural supporters of biofuels – including organisations such as the UN and the Worldwatch Institute and even some climate scientists.
There are two points at issue – the perennial carbon question and how best to make use of natural resources. While in theory the CO2 emissions from biofuels are much lower, according to the UN's Food and Agriculture Organisation, in practice, some types provide hardly any carbon reduction at all – and land use lies at the heart of this problem. To calculate the "avoided" emissions, it is important to consider both how much alternative fuel can be produced per hectare and the amount of carbon released during the whole production cycle – not just how much fossil fuel can be replaced at the pumps.
Land use is another potential stumbling block in the way of any expansion of biofuel production. Grain – a charity to support the poor farmers of emergent nations – have expressed concerns that a rush to biofuels to feed the energy needs of developed nations could end up causing far greater environmental and social harm than anyone has considered. Competition for land often forms a major driving force on the shape of agriculture in developing countries and many oil-rich crops can provide the potential raw material for fuel manufacture.
Grain are not alone in their worries; the UN has already found basic food prices being driven up in many of the world's poorer countries and the Worldwatch Institute have concluded that current biofuel production methods make heavy demands on natural resources. Concerns were also expressed at World Water Week 2007 that growing biofuel crops could have a significant potential to jeopardise water supplies.
The Way Forward
While there is a real danger of a "food or fuel" conundrum developing if the industry expands using present production methods, the future of biofuels is far from bleak. Most of today's bio-diesel is formed by a chemical process known as transesterification – and needs an oil-rich starting point – but a new way to make bio-diesel is waiting in the wings. Called "Biomass-to-Liquid" it provides a synthetic diesel formed from non-food plant materials such as straw, grasses and forest waste.
This advanced or second-generation bio-diesel – marketed as 'SunDiesel' – may be some years away from being commercially available, but the good news is that when it is, it will represent a greener and more sustainable way forward for biofuels in general.
You might also like...