An Eco Travelling Fact Sheet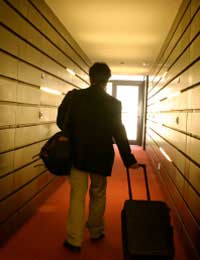 Browse through our great factsheet and gain an insight into the basics of eco travel. Learn about the concept, and find out what you can do to show your support.
What is Eco Travel?
Eco travel, or eco tourism, takes a responsible approach to tourism, ensuring that steps are taken to conserve, protect and encourage local wildlife and the surrounding community. Through energy efficiency, education, and ecologically sound day to day living, eco-friendly hotels and resorts seek to support the local environment and build awareness of it and its inhabitants.
Why Should I Be Interested?
The negative effects of mass tourism are well documented, from carbon emissions to a decline in local wildlife, and the rise in popularity of eco travelling signals a sea change in our approach to holidaying. Put simply, if we don't take action now, in the short term local communities and environments will suffer, and in the long term, we are destroying the planet for future generations.
Aren't Eco Travel Holidays Still Few and Far Between?
No! There are now many eco hotels all around the world offering a fantastic hands on approach to eco tourism. Whether you plan to travel far and wide or stay in the UK, you'll find some wonderful people running some equally wonderful hotels.
What Can I Expect From an Eco Holiday?
The best eco hotels seek to educate their guests, offering information about the local community and explaining how they work to support the environment. Don't think eco travel means sleeping in tents on the bare earth - depending upon where you go, you'll find amazing hotels, stunning scenery, delicious local produce and a real taste of the local culture. Best of all, you'll have made a contribution to the local community, and that's a holiday memory to treasure.
Is Eco Travel All About Holidays?
When we think of eco travel we do tend to focus on tourism, but in fact the benefits of eco travelling extend to our day to day lives too. Daily commutes and unnecessary car journeys all contribute to negative environmental impact, so local awareness is critically important.
What Can I Do to Contribute to Eco Travel on a Daily Basis?
There are lots of ways you can adopt an eco-friendly approach to travelling. Car pool schemes, home working, and taking public transport are just some of the ways you can do your bit for eco travel. Do your supermarket shop once a fortnight, or change to once a week if you tend to shop every day. You'll probably save money too! From the commute to the school run, we can all do something different, and every little helps.
Where Can I Go For More Information About Eco Travel?
The concept of eco travel is growing in popularity, and has been since the late 1980s, so there are plenty of great resources around to help you find out more. The Internet is, as always, a fantastic research tool, and you'll find books around the subject at your local library.
You might also like...
Hello,My name is Cliff Barre and my wife Tiffany and I are responsible green tourists and active writers for our Peace, Love, and Travel blog. I recently came across your blog and really enjoyed reading your article "The Eco-Traveling Fact Sheet." I would love a chance to speak with your readers about the idea of Green Travel Tips and how it can help them become eco-friendly travelers. I have some tips for before traveling, during traveling, and some green destinations to travel to.If you think this topic, or any other for that matter, would be of interest to your readers, please let me know and I'll start pulling it together.I look forward to hearing back from you, thanks!Sincerely,CliffLinkedin
Cliff
- 9-Jul-13 @ 5:01 PM