Eco-Friendly Driving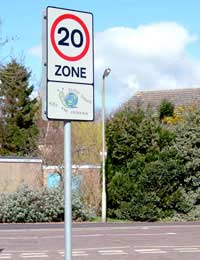 Despite a variety of initiatives to encourage us to change our driving habits and the frequent criticism of "Chelsea Tractors" – urban 4x4s – and their drivers, the nation's love-affair with the car seems unlikely to end in a hurry. However good public transport may be, there will always be some places which it does not serve and some times when it is simply not available. The role of the motor car in providing simple personal transport and the freedom to travel when and where we want is firmly cemented in society and it is not showing any signs of going away. It has been said that the car is simply too convenient – meaning that buying one is too easy and the environmental responsibility of ownership too remote – but what was intended as criticism actually merely echoes its major selling point. There is just no getting around the fact that convenience counts. So, if we are not prepared to give up our cars entirely, how can we try to square the circle and engage in more eco-friendly driving? The good news is that there are many options which can help.
Change Your Car
A range of eco-friendly cars have been developed over recent years, driven by various forms of energy including fuel cells, solar power and electricity. Mass produced cars driven by hydrogen fuel cells – which emit only water – are still some years away, but when they do become available many people think they will play a major role in the future of personal transport. Until then, electric cars are already here, though their short range is limiting, so they are really only useful as an urban run-around and they do require recharging from the grid – so they are not entirely "green".
Probably the most practical option currently available would be to opt for one of the latest generation of "hybrid" cars on the market, driven by an electric motor which is itself powered by a small conventional petrol or diesel engine. The engine feeds power direct to the motor when it is running, but when it is not needed – going down hill or when the car is braking, for example – it tops up the batteries. Most designs use "regenerative breaking" – a clever trick which involves running the motor backwards so that it acts as a generator and recharges its own batteries – as a way to recover the energy otherwise lost when the car slows down. Some versions also automatically shut off the petrol engine when it is not needed – while waiting at traffic lights, for instance – to minimise fuel use. There are not many types available in the UK sale rooms and they do tend to carry a high price tag, but if the idea appeals, then the likes of the Honda Civic IMA, the Toyota Prius and the Lexus 400h SUV are certainly worth a look.
Switch Fuels
If you are not in the market for a new car, then you could always consider converting your current one to a less environmentally damaging fuel. A conversion to allow it to run on both Liquefied Petroleum Gas (LPG) and petrol opens up the promise of using a fuel which burns more cleanly than petrol or diesel – so has lower emissions – but is roughly half the price and leaves performance and mpg virtually unchanged. There are only around 1,000 filling stations for LPG at the moment, but if you find yourself running low, you can always revert to the original fuel at the flick of a switch.
Compressed Natural Gas (CNG) is even cleaner than LPG, but only about 25 filling stations in the UK can offer this fuel – which tends to be used to fuel dustbin lorries! One fuel which is conspicuous by its almost complete absence in the UK is biodiesel – a true alternative to fossil fuels – which is made from plants, so it only returns current carbon to the atmosphere when it is burnt. Widely used in many parts of Europe – and despite the abundant oilseed rape crops grown on British fields – the idea has not really caught on, though it hopefully may in the future.
Fuel Economy
Even without the major expense of changing cars or fuels, there are things you can do to help reduce the impact of your car use by improving fuel economy – reducing the emissions for the same distance travelled. Good maintenance, a well tuned engine and properly inflated tyres – and dumping unnecessary clutter from your boot – can all pay surprising dividends in the fuel economy stakes. In addition, accelerating gently, avoiding hard braking and generally reading road conditions so you can adjust your speed to circumstances all bring benefits that are both economic and environmental.
While it is undoubtedly true that motor cars do make a significant environmental impact, for many of us abandoning them altogether is something we simply cannot – or will not – do. Fortunately, there are ways that we can reduce the harm done, though looking to avoid unnecessary journeys by car wherever possible is probably no bad plan either.
You might also like...