Two Wheels or Four?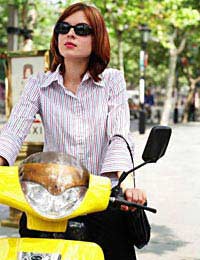 When it comes to motorbikes, love them or loathe them, few forms of transport seem to evoke quite so strong a response – but are they eco-friendly?
With the publication of two recent reports suggesting not, some of the shine was taken off the bikers' eco-credentials, leaving car drivers – long used to being cast as the villains of the piece – for once finding themselves holding the environmental high ground.
Not so very long ago, the whole bike/car debate centred on issues of image and noise, but in our green-aware times, the question has become how their eco-performance compares. So, is the eco-traveller really better riding on two wheels, or driving four?
Pollution Woes
On the face of it, the case against motorbikes is quite clear. According to the study done by the Swiss Federal Laboratories for Materials Testing and Research, compared to cars, motorbike hydrocarbon emissions are 16 times greater; carbon monoxide three times greater and other pollutants are released in "disproportionately high" amounts. In addition, while motorbikes are often the favoured means of transport for zipping around busy cities, using one in urban traffic generates average annual hydrocarbon emissions nearly fifty times higher than that of the typical car.
The picture did not get any rosier when ADEME – the French environmental agency – tested the CO2 emissions from various motorcycles and scooters, finding many of those routinely rolling along the Boulevards of Paris were between 5 – 25 times more polluting than a car. The ongoing campaign to ban motorbikes entirely from the French Capital had certainly gained some pretty powerful new ammunition!
Criticism in Context
However, things are not quite so bleak as they might first seem for the biker camp. It all comes down to perspective. For a start, there are far fewer two-wheelers on the roads – around 2.5 million motorcycles and scooters against nearly 30 million cars in France and a little over 1 million in the UK as opposed to over 25 million cars. However, though those French bikes account for only around one per cent of the national fuel use, they contribute 10 per cent of the country's total CO2.
As the Swiss report made clear, much of the reason for the apparent environmental under-achievement of motorcycles and scooters results from their relatively small numbers, which historically stopped them being subjected to the same legislative pressure to clean up as cars. This state of affairs is changing with the rise of the new Euro1 and Euro2 pollution rules, which mean that new motorcycles will now emit significantly less pollution than cars but there are still many older bikes around. It is principally these – and most especially those with two-stroke engines – which make things seem quite so bad.
Bike enthusiasts have been quick to point out that these studies fail to take into account the time factor. One of the main attractions of motorcycles and scooters in a city environment is the relative ease with which they can negotiate their way through the congested streets, routinely two or three times faster than a car. The shorter time a bike engine needs to be run to get from A to B goes someway towards offsetting the additional emissions. In addition, fuel consumption figures greatly favour motorcycles, which regularly turn in much higher mpg per passenger – especially when the driver is the only person in the car.
Horses for Courses
It has been suggested that motorcycles and scooters are better forms of eco-transport than cars because fewer cars means less congestion and reduced pollution – true as far as it goes but largely unhelpful. It would, after all, be a little difficult to be an eco- responsible householder and pop to the civic amenity site with a week's worth of separated waste for recycling on a motorbike. It really comes down to a case of horses for courses – and cars and bikes both have their place, though neither can exactly claim to be a particularly clean form of transport.
It is possible, however, that the pollution issue may ultimately solve itself. While in the short term, the major motorbike manufacturers are increasingly developing machines designed to be more friendly to the environment, perhaps the future of city transport lies with alternative two-wheelers, such as the electric scooters, mopeds and powered bicycles. Doubtless even then the same old two-wheel/four-wheel debate will still be raging between the riders of these and the drivers of the latest generation of electric cars!
You might also like...