Ideas for a European Cycling Holiday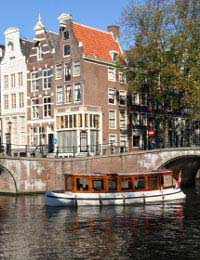 Leave behind traffic jams and road works with a relaxing and refreshing cycling holiday. If you like to get on your bike in the UK why not plan to pedal further afield with our ideas for a cycling holiday around Europe. From beach to city, there's a cycling holiday out there for everyone.
Flower Power
Holland's tulip fields are breathtaking, the colours of the rainbow stretching out as far as the eye can see. Lots of cycling holiday operators offer tours of this area of the Netherlands if you'd rather take a guided option. Your challenge will be keeping your eyes on the road!
Ship to Shore
If you fancy combining a cycling holiday with some time on the ocean wave, opt for a cruise and cycle break. With bikes waiting for you when you disembark, a holiday like this is the perfect blend of relaxation and exhilaration and allows you to travel further and experience more. Some suggested destinations include the diverse Greek Islands and stunning Croatia.
Italian Charm
There are few places more scenic and suitable for a European cycling holiday than the undulating terrain of the Italian Lakes. Whether you choose to take a tour with other like-minded travellers or go it alone, a holiday in this part of Italy offers both nature and culture, with the prospect of excellent food and wines to keep your energy up.
French Fancy
Provence, with its stunning colours and scents, is one of the most popular European cycling holiday destinations. From lavender fields to the wild white horses of the Camargue, a tour of Provence is a real sensual delight. This region of France produces fantastic food, too, so fill your bag with goodies and explore the French countryside at its most beautiful.
Close to Home
If you'd rather stay and see what the UK has to offer, a cycling holiday in the Lake District might be just the ticket. With amazing scenery and history, the Lakes make the perfect cycling destination. You'll be at the mercy of the English weather, but that's all part of the fun. Staying in the UK also means you can be a bit more flexible and there's plenty here at home to explore.
Beautiful Bruges
Pretty and compact, a cycling holiday in Bruges offers great sights and sounds, including a beautiful network of canals and amazing architecture. A UNESCO world heritage site, Bruges is an unforgettable blend of culture and chocolate shops – great for keeping your energy up! A little bit like Brussels in miniature, well cared for Bruges has good cycle routes and many photo opportunities.
Hopefully that shortlist of exciting European cycling holiday ideas will add some inspiration to your holiday plans for the year ahead. Flexible and varied, a cycling holiday allows you to totally tailor your break to suit each member of the family, big or small. A holiday like this is a good way to bring your family together and keep fit. Once you've tried one you'll be hooked.
You might also like...