Working Holidays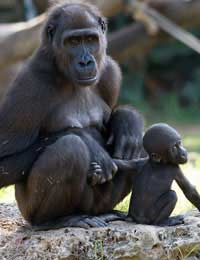 Working for the Fossey Foundation may well be the dream for thousands who saw "Gorillas in the Mist", while the thought of employment on the Galapagos islands has an allure for just about anyone who has ever heard of Darwin – but, sadly, neither is really likely to come off.
For those of us who would love to be able to do something practical to help the planet – but realistic enough to know that the jobs that are available seldom pay well enough to provide for food, fuel and family – working holidays can supply the ideal compromise. Ranging from weekend getaways to a month or more and offering a wide array of opportunities from costumed guide to countryside labourer, in the UK and abroad, there really is something to appeal to everyone and to every pocket.
Practical Conservation
The British Trust for Conservation Volunteers (BTCV) is probably one of the best known sources of working holidays, whether you are looking for a weekend mini-break or a fortnight or more. The various regional branches host a wide array of suitable holidays, offering the opportunity to preserve some of our best natural heritage while gaining a new skill. The sort of projects typically encompass footpaths, hedge laying, woodland management, riverbank improvement and dry stone walling. Similar work – called "action breaks" – is offered by the Scottish Conservation Projects Trust, typically located in remote areas, but usually close to a pub, while The National Trust for Scotland run "Thistle Camps" across the mainland and islands.
The BTCV itself offers venues from the Hebrides to New Zealand, including Albania, Bulgaria, Cameroon, Estonia, Iceland, Japan, Kenya, Nepal, Romania and South Africa, while the equivalent organisations in other countries also provide opportunities for working breaks. On the other side of the Irish Sea, the Conservation Volunteers Ireland (CVI) have a range of coastal and countryside conservation projects, while on the other side of the world, Conservation Volunteers Australia (CVA) offer schemes in a number of the country's wild places.
Other bodies to consider include the Royal Society for the Protection of Birds (RSPB) the Whale and Dolphin Conservation Society and the Wildlife Trusts, all of whom offer various opportunities to get some "hands on" holiday experience.
Other Options
The formal conservation organisations do not, of course, hold the monopoly on providing working holidays, as a quick web-search will show. Any number of travel companies are prepared to meet your needs – and the best of them are very good indeed, though others leave much to be desired in terms of genuine eco-credentials.
While it is undoubtedly important to make sure that your chosen company really is as eco-conscious as they would have you believe – and not simply adept at a spot of green-washing – choosing wisely will ensure that both your time and money will be well spent. Although it is always difficult to verify the claims – and of course, things can change – some companies do make it easier than others and it is worth asking a few questions to get the right end result. A bit of careful research could see you joining a Scandinavian wolf survey, working on turtle conservation in the Greek Islands or helping with water relief in Africa.
If staying more local and perhaps a bit "alternative" is more your thing, there are many opportunities across Britain to re-charge the batteries while re-connecting with nature and perhaps the best known example of these is Findhorn on Scotland's north east coast. As well as offering the opportunity to sample life at this unique community – which featured in "The Haven" a 3-part TV documentary – the "work" element involves joining one of the teams responsible for the gardens, kitchens, homecare or maintenance. As an essentially holistic and spiritual experience, meditation, sacred dance and a nature walk also feature as part of a week here.
The Centre for Alternative Technology (CAT) in Machynlleth – said to be Europe's leading eco-centre – also offers opportunities for working stays, though admittedly less contemplative ones. They are quick to point out that most of the work tends more to routine maintenance than erecting windmills or building solar panels – but it really rather depends on what needs doing at the time, so you might just drop lucky!
Working holidays offer an effective and practical way to reconcile caring for the environment with the desire to travel – allowing you to give something back at the same time as gaining from the experience yourself. While the work is often hard and the costs not insignificant, especially on overseas projects, the reward is the unique perspective gained and the like-minded new friends to be made –an experience which many have found life-changing.
You might also like...