Why is Eco Travel Important?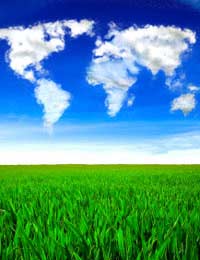 The term eco travel is being bandied about more and more as our environmental aware attitudes are embraced in all aspects of our daily lives. Though you may feel confident that you know what eco travel means for you, it's good to know exactly why we should all be aware of the positive effects that eco travel can have, all over our planet.
Eyes Open
The best eco travel operators and hotels seek not only to demonstrate their own ecologically aware values, but also to educate others and ensure that holiday guests leave with a good understanding of what is being achieved. In addition, bringing such awareness to the local community is critical, and as we'll see, a good mutual relationship between hotel or resort and the surrounding area means there is plenty of scope for making a real change to local attitudes.
Hand in Hand
Many eco hotels take the great step of creating local employment opportunities, but the best go a step further by supporting indigenous trade and produce, from food to crafts. In doing so, not only do the hotels support their local economy and keep their carbon footprint down, but they also add depth to a holiday. Guests return home knowing exactly how their stay has helped to improve the lives of the people close by, and many continue to show their support once the holiday is over.
Going Green
The recycling schemes and energy efficiency programs adopted by eco hotels help to sustain and often improve the surrounding natural habitat, with some contributing to planting schemes and the conservation of local wildlife. The feeling is that these countries or areas can do little to prevent an increase in tourism, and by taking an ecologically sound approach they embrace it in a responsible way in order to conserve and even improve the natural surroundings.
Future Proof
By tackling the increase in visitor numbers head on, eco hotels are also helping to protect the environment for future generations. In this way, your eco-friendly holiday will have a positive impact long after you've left, and every single visitor will have contributed to the conservation of the area and the development and education of the local community. It's a great feeling to return home from a holiday knowing that you've given something back.
Getting Started
The argument for eco travel is extremely convincing, but it's not always easy to turn a good idea into reality. Happily eco holidays are becoming more and more common, so you whether you choose to book through an agent, or take a DIY approach, a little Internet research will soon reveal many an option. It's not all about developing areas either, there are some fantastic eco hotels flourishing on UK shores for those who wish to holiday at home.
The importance of eco travel has never been greater, as environmental damage continues to develop at an alarming rate. Consumer demand is key to the growth in the eco travel industry, and it's up to us all to push for more great options like these in eco travel.
You might also like...