Eco Hotels Around the World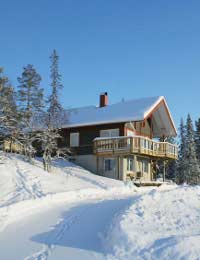 If you've decided upon an eco-friendly holiday and you're ready to book your break , you'll probably be wondering where to begin.
There are travel experts out there who can help out with the specifics, but if you prefer to take the independent approach, have a look at our guide to some of the best eco-friendly hotels around the world.
Close to Home
You don't need to go abroad to have an eco-friendly break. Holidaying in the UK not only keeps your carbon footprint small, but it also supports our own tourist industry. Wales is home to some great eco hotels. Y Goeden Eirin, near Gywnedd, ticks all the boxes. Waste is recycled, cleaning products are green and staff are trained in the principles of environmentally friendly tourism.
Locally-sourced food, solar panels and publicity materials made from recycled paper add to this hotel's green credentials. The philosophy here is great, with the owners taking the 'every little helps' approach. Look no further if you seek a relaxing holiday in green and beautiful Wales.
American Dream
We cross the Atlantic to North America for our next highlight. North America has a wealth of eco hotels, and where better to appreciate all things natural than beautiful Alaska. Set amongst jaw-dropping scenery, the Ridgewood Wilderness Lodge with its timber-constructed cabins is well worth a look. The vegetable garden provides delicious produce, and the hotel's owners have even set up an oyster farm, a great addition to the local eco-system.
Add to this solar panels making the most of the Alaskan summer, and a biological water waste system to taking care of water treatment, and it's little wonder that the Ridgewood Lodge is a member of the International EcoTourism Society.
African Adventure
Off to Africa now, and the Kurisa Moya Nature Lodge. Situated in northern South Africa, the accommodation is based in a beautiful spot where guests will be able to see many different animals and birds during a holiday truly inspired by nature. With solar energy taking the place of electricity and an extensive recycling program, Kurisa Moya is the perfect place for an eco-friendly getaway in a wonderful South African setting.
Guests are educated in recycling and organic bins are placed throughout the complex. The hotel also takes its social responsibility very seriously, supporting local enterprises and producers. Guests can become part of the hotel's fantastic carbon offsetting program by pledging to have trees planted at the local schools.
Zeal for New Zealand
Bushy Point Fernbirds in New Zealand , is a bed and breakfast with a difference. It's totally carbon-neutral, for starters, and it sits within a protected wetland reserve, meaning you'll be about as close to nature as it's possible to be! The perfect place for bird lovers, this hotel is dedicated to ecology, helping the reserve's bird population to flourish and ensuring that energy efficiency is given the highest priority. Recycling, low energy lighting and water conservation are just a few of the eco-friendly features you'll find here, and the hotel is proud to be a Ramsar wetland of international importance site.
This is a tiny sample of the some of the world's most amazing eco-friendly hotels. Wherever you wish to go, be it far flung or cosily close to home, a little research will reveal more possibilities that you ever imagined. The joy of such hotels is that they often offer the opportunity to get really close to nature, meaning you'll return home with a renewed enthusiasm for the environment we all seek to protect.
You might also like...