The Hidden Cost of Travel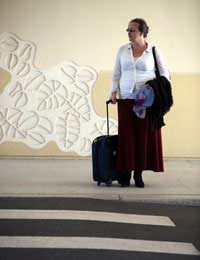 Although all forms of travel have some effect on the environment flying, climate change and carbon emissions have tended to be the most hotly debated issues – particularly where long-haul holiday flights are concerned. However, this sometimes masks the fact that tourism – and travel in general – can bring about more problems than just those caused by the fuel burnt getting to your final destination in the first place. The hidden environmental costs of travel can often be as important on a local scale – and every bit as immediate – as the more familiar shadow of global warming.
The Tourist Tab
When it comes to our holiday destinations, even the greenest and most socially-aware amongst us can sometimes be caught unawares by the magnitude of the inequality – and often abject poverty – of some of the world's poorest regions. While many countries benefit enormously from their tourist industry – allowing pristine habitats to be protected and cultures and wildlife conserved - sadly, sometimes becoming a holiday destination can simply make things worse for the local inhabitants. The fact that this is unintentional is, of course, of little consolation.
The simple economic disparity of tourism can often bring its own problems. Crime levels may climb and although the main "targets" might be the affluent visitors, it remains the ordinary townsfolk – and their police – who have to live with the trouble year-round. It is also worth remembering that not everyone benefits from tourism's boost to the local economy. In some places, food prices can rocket during the season in an attempt to grab as much of the visiting cash as possible, but this often hits local people very hard too, leaving staple items of diet and other supplies priced beyond their means. Add to this that every "protected reserve" where travellers now flock to see unspoilt nature was almost certainly someone's traditional hunting or grazing land once upon a time – and it is not hard to see how quickly the hidden costs of tourist travel can begin mount up.
All over the world, many tourist venues seem locked in a ever-expanding cycle of building work to catch more and more of the elusive tourist dollars. More hotels and restaurants mean more tourists – but that also means more strain on local infrastructure, higher energy demands, increased requirements for water, more waste to dispose of and a greater need for sewage treatment. From Scotland to the Seychelles, the problem remains the same; the inevitable difference is that developing nations are less well positioned to solve it.
Travel Troubles
It is not, however, only tourist travel that comes at a price. While the issue of "greening" transport often seems restricted to discussions of the different modes themselves, the necessary infrastructure can pose a significant environmental challenge too. Road building, airport expansions or new rail-links have every bit as much of an impact as any amount of hotel building, but the hidden costs go beyond this. The more we chose to travel, the greater the number of ancillary services that spring up to meet the needs of the traveller – from Travel Lodges to fast food stores and petrol stations – and with each comes another demand for more resources and the production of more waste.
However you travel, it is almost impossible to avoid having some kind of impact on the environment – and when you visit "unspoilt" lands it can be hard to escape spoiling them in some way, however slight or unintentionally. The "big" travel issues of climate change and carbon footprints have their rightful place, of course, but being too focussed on them can sometimes let other problems slip by unnoticed. As with all things to do with eco-travelling, stopping everything which is potentially harmful to the environment simply may not be possible, but with an awareness of some of the hidden costs of your journey – be it near or far – you can at least do your best.
You might also like...