Selecting the Right Hotel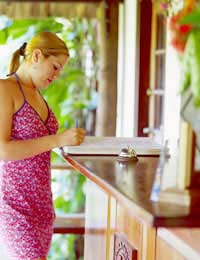 Whether you are planning to stay for just one night or a fortnight, your hotel becomes your surrogate home for the duration – and just as your own home reflects your approach to living, as a responsible and eco-conscious traveller you want your borrowed one to do the same. Selecting the right hotel – at least on an environmental basis – largely comes down to finding out how many of those values are shared, though the task is not always an easy one.
As always, there is no shortage of operators themselves prepared to tell you how wonderfully green they are, but that, of course, still leaves the ever-present difficulties of verifying their claims and it is not always possible to rely on last year's response. Things change.
However, the good news is that a few well chosen questions should help you avoid too much "green-wash" and, fortunately, the growing popularity of eco-travel has led to increased objective, third-party scrutiny. The upshot is that rogues touting bogus green claims are finding life much harder – but they still exist, so it pays to be careful if you really want to be sure that your stay is as eco-friendly as you would have it be.
Asking the Questions
By their nature, hotels tend to be fairly permanent parts of the landscape in a way that other parts of the tourist industry never are. Travel agents, tour operators, guides, aircrafts – even air lines – come and go, but hotels tend to endure, albeit with periodic facelifts to upgrade them to meet the standards and demands of the age. While this permanence may be reassuring, it does lay the way open to two eco-performance pitfalls; firstly, with a long lifespan comes the potential for an equally lengthy environmental impact and secondly, the older an establishment, the more resistant to change it may be.
Any hotel claiming to be ecologically sound must have a written environmental policy – and if the hotel is part of a large chain, it may well have an attractive corporate environmental policy for you to see. Whatever the style of presentation, it should contain the answers to many important questions including the steps they take to minimise their own impact, details of their purchasing policy and how they assist recycling or conservation projects. It is also worth trying to find out if their "responsible tourism" credentials extend to supporting the local economy – and this is perhaps most relevant if the particular hotel is part of a multi-national group.
Ideally a fair proportion of local staff should feature on their payroll – and not just in menial grades – and the establishment return some of its money into the economy by sourcing at least some food, products or services from the area. In addition, the way they treat waste, water and wastewater can be important indicators of the real state of their overall eco-awareness, not least because of the serious problems associated with all three in many regions of the world.
If they have a way to measure the effectiveness of their environmental policy, then this is all to the good, since without some form of assessment, however well intentioned they may be, it is almost impossible to quantify their actual performance. Even if such a regime exists, verifying the results for yourself may be almost impossible, especially at a distance. Sometimes it just has to come down to a judgement call – are they really eco-aware, or simply doing some heavy green-washing?
A Little Help
If you are lucky, other links in your holiday chain may have done the work for you, so if you have selected your travel agent or tour company wisely and are confident of their commitment to eco-ideals, you can probably relax. Many of the specialist eco-tourist companies take great care to ensure that the hotels they use meet the highest standards and some travel agencies, particularly those of the more "niche" variety, are also very well informed on hotel eco-performance. While this is not really an independent endorsement, it does at least provide some degree of external verification. However, although a simple web search will reveal any number of hotels claiming to be eco-friendly, sometimes a truly third-party assessment is available – either in one of the newspapers or environmental magazines, or by an eco-tourism organisation.
It is not a new idea – the first environmentally oriented referral hotel group – Rues Hotel Selection was launched in Bolivia in 1994 as a not-for-profit organisation to advance independent small and medium-sized eco-friendly hotels across the world. More than a decade later – and with eco-tourism now firmly a mainstream concern – the use of environmental criteria to select the right hotel has certainly come of age.
You might also like...