Travelling for Business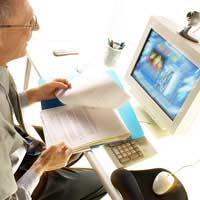 Although there seems to be no shortage of readily available advice telling us what we can do in our own homes and personal lives to help the planet; when it comes to business travel that sort of guidance can be a little harder to find.
With companies increasingly concerned about the environment, many have implemented eco-conscious purchasing and procurement policies, set-up car-pooling or provided their staff with incentives to promote commuting on foot, by bicycle or using public transport. Finding appropriate options for the ecologically responsible business traveller, however, still remains a challenge – and a large one. The UK government's recent announcement of their aim to reduce corporate carbon levels by 12.5 percent by 2012 signalled that the need to cut travel emissions had gained a new priority. Prioritising is one thing but achieving the goals something else entirely – so how easy is it to be an environmentally responsible business traveller?
Appropriate and Eco-Friendly
The good news is that much of what applies to personal travel can be just as relevant for business miles too – though much depends on the nature of your occupation, as carrying a vast stock of commercial samples on a bicycle, for example, is something of a non-starter!
It largely comes down to a modicum of common sense – and a flexible attitude in the accounts department – to enable you to select the most appropriate eco-friendly means to get about. While using the train – and avoiding flying – whenever possible are obvious front-runners for any corporate eco-friendly travel policy, the question of company and rental cars is often overlooked.
A variety of green options have become available over recent years – ranging from choosing to run a fleet on cleaner fuels such as Liquefied Petroleum Gas (LPG) or biogas – though these options are not always readily available – to switching entirely to hybrid or electric cars. Fairly recently, in certain regions of the UK – and a number of other countries too – some car hire firms have begun offering electric and hybrid cars for rental. Though this is currently a fairly localised and small-scale development, there is clearly considerable scope for its continued growth, particularly given the pressures on businesses to maximise their environmental performance coupled with the rising general tide of eco-awareness.
Flying Online
There was a time when a firm handshake and a face to face meeting were absolute essentials for doing business, but increasingly the need to travel to close deals or negotiate the details of a contract has been replaced by the constructive use of technology.
Whether a journey is really necessary is a question asked more and more frequently in boardrooms as the uptake of broadband and the greater reliability of video-conferencing make many trips redundant. In many ways, flying has gone online, with distances shrunk by telecommunications rather than air-miles – leading some to suggest that IT could play a leading role in the green revolution and provide the planet's best hope for averting environmental disaster.
It is certainly an inspiring image and an entirely fitting one – the use of technological solutions to avert the damage of technology, in a classic example of setting a thief to catch a thief. If the environmental problem is over-use of cars and air travel, then communication technology offers a way to sidestep much of the need and most importantly, without seriously damaging business.
It all makes economic as well as environmental sense. With evermore stringent restrictions on the use of electronic devices in-flight – and the consequent loss of several hours work-time – and congestion making a half-hour meeting take half-a-day to complete, bottom-line benefits are there for the asking. It is the best of win-win solutions and while a client might not be impressed by a request for a web conference because it will save you money, they cannot fail to be moved by an appeal on environmental grounds.
There is no escaping the fact that like all other forms of travel, work trips have an impact on the environment, but serious economic and public-relations benefits await the business which can successfully incorporate eco-conscious ideals into its transport policy. Fortunately the options open to the environmentally responsible business traveller are growing – and perhaps one of the most promising involves not travelling at all!
You might also like...