Eco-Commuting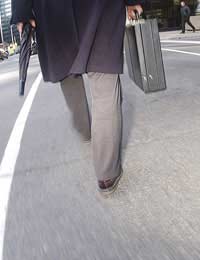 According to recent studies UK workers spend an average of 92 minutes per day travelling to and from work – which not only adds up to an enormous amount of time over the year, but also represents a huge potential impact on the environment. For a variety of economic and social reasons, employment patterns have changed out of all recognition since our grandparents' day, making the daily commute such a major feature of modern life. While a return to living within a short walking distance of our workplace may be the ultimate in eco-friendly idealism, for the vast majority of us, it simply is not an option. So, if you must join the mass morning and evening exodus, how can you turn commuting into eco-commuting?
The most obvious solution, of course, is to abandon motorised transport altogether and either walk or cycle to work. While this certainly is not going to be possible for everyone, for those of us for whom it is an option – and it has been estimated that something like 75 per cent of all UK journeys are short enough to be sensibly made by bike – it has to be one worth seriously considering. Even a partial eco-commute – only on the days when the rain keeps off, for example – is better than doing nothing at all and there are now an amazing range of accessories and gadgets available to make cycling a safer and more enjoyable way to travel. However, for many, the distances involved just rule it out, leaving some form of powered transport as the only choice.
Motorised Transport
Public transport – buses and trains – are an excellent option where possible, largely because they offer far higher energy-per-person efficiency than a typical driver-only car and occupancy of a vehicle is an important factor when it comes to mechanical power. A full train, for example, is at least twice as energy efficient – which equates to less polluting – than a full car, making it especially good for longer commutes. The good news is that it seems that British workers are responding to the environmental message; a recent Barclaycard Business Travel Survey showed that commuting by train is now five times more popular than it was just two years ago.
While trams, buses and trains may be an ideal way for urban dwellers to travel into work, their services are often either not present or inconvenient in rural areas, making cars an inescapable necessity. However, they remain a very poor choice for short commutes, since a cold car engine produces around 60 per cent more fumes than a warm one and catalytic converters do not work for the first five miles of a journey. For longer distances, if the car remains the only option all is not lost, since there are a number of simple things you can do to reduce the impact of your journey, such as trying to minimise your fuel consumption, or better still, sharing lifts or setting up a car pool.
While these will help straight away, in the long term you might like to consider either converting your car to a less environmentally damaging fuel, such as liquefied petroleum gas (LPG) for example, or buying one of the latest generation of eco-friendly hybrid cars.
Go Electric
For short to medium distance commutes, electric vehicles offer a good solution and although a number of types exist, they have generally been under-promoted in the UK – though now a few companies, such as Eco-Drive, offer electric cars for hire. They are quiet and emission-free in use and require less maintenance and fewer replacement parts than their conventional counterparts, which means less waste is generated over their useful life. Many of the leading European and world car manufacturers offer electric cars, mainly small hatchbacks, but also including mini-people carriers and even small 4x4s. With a range of around 50 miles these vehicles are ideal for many commuters, though their need for regular recharging typically using electricity derived from fossil fuels in conventional coal or gas fired power stations leaves them less than entirely eco-friendly. One solution to this problem comes in the form of electric scooters or mopeds, which it is claimed offer the least environmental impact at around 15 miles for less than five pence-worth of overnight electricity.
The Scoot'elec, for example – arguably the most popular electric scooter in Europe in recent years – has a 25 mile range and can be recharged in around two hours from a standard mains socket, making it and its kin ideal forms of transport for towns and cities.
For so many of us, there simply is no escape from the daily commute to work. However, things are changing – the Barclaycard survey also showing that the proportion of us driving to work fell from 92 per cent in 2003/4 to 75 per cent in 2005/6. Whether this is a conscious attempt to mitigate environmental damage or just a response to higher fuel prices and congestion charges, the end result can only be a positive one.
You might also like...