Does Working From Home Really Work?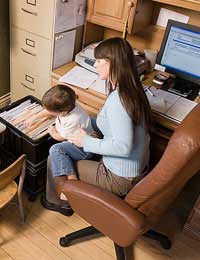 Until quite recently, working from home has generally tended to be the preserve of the self-employed with particular specialist skills to provide – architects, designers and their like – but today more and more people in a wide variety of jobs are taking up the telecommuting option. Realising that work is something you do, rather than somewhere you travel to, has potentially enormous benefits to employer, employee and the environment – but how readily can those be achieved and does working from home really work?
Commuting -v- Telecommuting
The most obvious environmental benefit is, of course, losing the need to commute. With recent studies having highlighted the fact that, on average, UK workers spend 92 minutes each day travelling – and much of that either sitting in traffic or cramped into crowded trains – the appeal of this aspect alone is easy to see. Avoiding the drive to work avoids the emissions, but it also sidelines the stress and simple waste of time – those 92 minutes adds up to very nearly fifteen and a half days over a year! Looking at the wider picture too, commuting generally means congestion, which in turn drives calls for by-passes and new road-building – more telecommuting means less pressure to lay more tarmac, or produce more dormitory housing schemes in commuter-belts.
While the energy efficiency of using absolutely no fuel at all to get to work is unparalleled, obviously there is a down-side to this in that the teleworker's household energy usage does tend to rise as a result of the full-time occupancy, but not by as much as you might think.
Studies have shown that an increase of around 14 per cent is fairly typical – which is often more than offset by the savings in petrol, parking or travel tickets.
Making It Work
Despite its many benefits, teleworking is not the automatic answer to every situation and does not suit everyone. For home working to succeed, a few adjustments are often required to set aside common viewpoints on what work is all about – and how things like efficiency and productivity are recognised at a distance. Successful home working demands a management style which keeps an eye on results, rather than individual employees – focussing on the goal to be achieved and not the minute to minute activities of the workers.
Employees too need to be able to think a little differently, as the demands made of them are different, but no less stringent than their office-based counterparts. Providing suitable space can sometimes be problematic – though there are a number of suppliers of home offices.
On a personal level, one of the biggest reported problems for home-workers is the lack of social interactions with colleagues, which can leave some people feeling isolated and unhappy. However, not having to put up with office gossip or petty power struggles is one of the biggest reported benefits – so perhaps it is a bit of a case of swings and roundabouts!
Working from home can also require a fair dose of self-discipline and considerable skills of diplomacy – especially when friends or family insist on dropping round just "because you are there." On the plus side, however, home workers regularly turn in higher productivity and fewer sick-days than the national average – though they often work longer hours too! Telecommuting is certainly not a soft option – and works best when both sides of the traditional management/worker divide keep this firmly in mind.
Not a New Concept
The idea of working from home and communicating with a central office by telephone is not new – the first formal tests of telecommuting took place back in the early 1970s, then using dumb terminals connected to a mainframe computer. Since then, the rise of the PC, affordable modems and ultimately broadband has pushed the available technology to a point where international conferences are possible at the click of a mouse.
Although there are some problems in making the switch from office-based employment to working from home – and some practical considerations to be met, such as ensuring adequate insurance – there are major potential benefits to work, home and the environment. Home working – arguably the greenest way to work – is a very real opportunity to reduce carbon footprints at an individual level and, on a larger scale, to provide at least a partial solution to the gridlock of modern work-day travel. While it may not be for everyone, working from home can certainly work out very well.
You might also like...