Why I Only Cycle to Work: A Case Study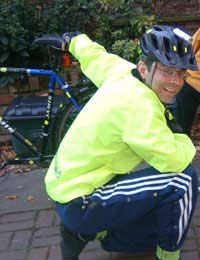 Two years ago, Lloyd Gruber was living in a typical American suburb with a big house and a two-car garage. Every day he drove to work at the University of Chicago, a commute which he recalls as being a living nightmare.
"I had to drive into town with bumper-to-bumper traffic and drive back the same way. It was so crowded on the motorway that I had to check in advance on the Internet to plan my departure around the current traffic flow," he says.
"I was often late getting home to my kids and didn't like contributing to global warming. But it never occurred to me to cycle as it was simply too far."
Buying His First Bike
Then Lloyd and his family moved to London, after he was offered a job as a lecturer in political economy at London School of Economics. In an instant, everything changed.
"One of the attractions of moving here was that I could live close enough to work to not need a car," says Lloyd, 43, who has an eight-year-old son and five-year-old daughter.
"So before we left I bought a bike and brought it with me. I got here, assembled it, cycled to work on a quiet Sunday to plan out my route, and the rest is history."
Saving Money
"I love cycling. And I absolutely save money," Lloyd says. "Bikes are not that expensive and commuting bikes are less expensive than racing bikes. It's not like you need to worry about every little ounce, the lightness of them isn't that important as you have to pin your bag on the back anyway.
"I paid maybe £400 for my bike at the time, and have saved thousands in car fees, petrol, insurance etc.
"The fact that we don't have a car at all is a huge lifestyle change. We have down-sized dramatically in many ways, and we don't miss the car at all.
"Basically, we live someplace where we are in easy walking distance of shops, I cycle to work and my wife walks everywhere or takes a short bus ride. It's all working out well for us."
Health Benefits of Cycling
Lloyd also appreciates the health benefits that cycling offers. "It's fabulous for my health. It's too good. I am in better shape now than I was when I rowed at university.
"It's a function of the repetitiveness of it. Going in is downhill but it's still close to half an hour and you get your heart rate up. And coming home is all uphill. It's not completely draining but if you do it five days in a row that's like two little work-outs times five."
Cycling to work is also a lot faster than driving, meaning not only that Lloyd doesn't spend hours wasted in the car, but also that he can leave later in the morning and spend more times with his family – or even drop the kids off at school.
Weighing Up the Dangers
However, he is the first to admit that cycling does have some drawbacks. "Within a couple of weeks I had a major cycling accident, but it was my own fault," he says.
"I had a little backpack tied to the rack and didn't tie it tightly enough. When I turned a corner it slid to the side and into the bicycle spokes on the rear tyre.
"It jammed, I went flying, and it was very dramatic. I landed on my skull, which fortunately was protected by my helmet. I have been safety nut ever since."
Lloyd now wears not only a helmet and protective safety goggles, but also has invested in fancy new safety lights. "I also wear silly-looking tights and very bright yellow jackets and shirts," he says.
He adds how surprised he is that some cyclists themselves don't take safety as seriously as they should. "You often see people talking on their mobiles when they're cycling, or listening to their iPods, which is incredibly unsafe."
While the government is actively encouraging other people to cycle to help the environment, Lloyd says the campaign has some problems.
"My big beef is that they encourage everyone to get on their bikes, both to reduce traffic and help global warning. But while they are as aggressively building new cycle lanes, sometimes the ones they build are quite useless.
"They have big bumps in them or they are too close to bus stops where passengers get on and off. Something should be done to make the lanes safer. Both for cyclists and pedestrians."
You might also like...