A Week Working from Home: A Case Study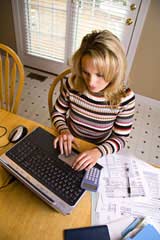 With millions of us hitting the road during rush hour, lots of people say that their daily commute is the most stressful part of the working day. Coupled with the negative environmental consequences, it's no surprise that many businesses now support some home working. Office worker Polly Wavell decided to document a week spent working from home, noting the environmental and personal benefits of joining the 'pyjama workforce'.
Monday
"It's Monday morning and I don't have to get out of bed! After a bit of bleary-eyed time spent checking my PDA I am so tempted to heave my laptop into bed with me and have a real duvet day. I watch the endless stream of traffic snake past my window and wonder why we don't all do this a bit more often. I can watch TV! It's so good to have background noise – my office is so quiet and stiff. I note though, that this adds to extra household energy consumption. Being able to keep on top of the washing is great, too, and being able to hop up and hang it out means I'm able to rely less on the energy-guzzling tumble dryer. I spend the day in a great mood and find the change of scene makes me happier and more productive.
Tuesday
I make a concerted effort to shower this morning before starting work. Yesterday I only managed to do so between late afternoon meetings, listening for the phone as I scrubbed, and I found it pretty stressful. There was a real drama at work today and for the first time I missed the comfort of being around my colleagues during a crisis. Working from home is pretty isolating, especially when the pressure's on, but I managed to get out for a walk at lunchtime to calm my nerves. I'd usually jump in the car to get away, but the walk is hugely beneficial and I make a mental note to make a permanent change, cutting the unnecessary journey out of my day.
Wednesday
I'm really feeling the lack of human contact today. The walls of my flat are closing in a little and I move my work into another room for a change of scene. My laptop's not behaving too well and I regret not being able to dash it over to the IT team. I panic for a while because I need to present this afternoon, and worry that the project team won't be able to see what I'm showing them. For a moment I consider going to the office, but I hold firm. I'm able to have my supermarket shopping delivered, consciously picking a slot when the delivery van was already scheduled to be in my area. Every little helps, and this is a win-win situation all round.
Thursday
Today I decided that although working from home has some great benefits, it wouldn't suit me to be based here permanently. I miss the happy feeling of arriving home to my lovely flat at the end of a long day; the longer I'm at home, the more I notice its faults. I also need the heating on for longer, and I realise that means extra energy and extra cost. Being winter, it's dark early so I need lights on too. It quickly becomes clear to me that although I might be doing the environment a favour in some ways by working from home, I'm using more household energy and increasing my bills.
Friday
The final countdown! I'm itching to get back to the office. After a week I find the isolation and the absence of a team around me adds to my stress. As an eco-friendly exercise, it's been great, and I've vowed to work from home at least one day out of every week from now on. I'm also going to cut down unnecessary journeys by taking walks at lunchtime and take advantage of online shopping too. Knowing that I'm doing that little bit extra to help the environment is a good feeling, and it's high time more businesses encouraged their employees to do the same."
You might also like...