Bicycle Safety Equipment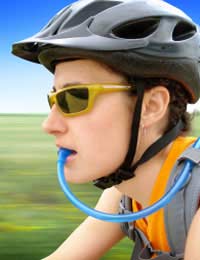 Cycling can certainly do wonders for your health - and the planet's too - but only if you stay safe on your two wheels; fortunately there is a wide range of bicycle safety equipment available to help ensure you do.
The latest types of helmets, lights and reflectors are manufactured to stringent specifications and are designed to meet industry standards, but keeping safe doesn't just end with buying the right kit.
When it comes to looking after yourself on today's roads, knowing how to pick the right safety gear for you and get the best out of it can make all the difference.
Choosing the Right Helmet
If you're going to wear a helmet, then it's vital to make sure it fits properly. No two heads are ever going to be exactly the same shape, so it's important to try a few helmets on before you pick the one for you - and not simply opt for one just because your friend recommends it!
Most reputable retailers will be able to offer advice on size and fit, but in general the helmet should sit level, with the straps done up tightly and lying either side of your ears - not across them. While a well-fitting helmet can save you from serious injury, a poorly fitted one is unlikely to - and can even make things worse - so it is definitely worth getting it right.
You also need to consider ventilation; cycle helmets are usually made with a series of holes or vents in them to stop your head getting too hot - and feeling uncomfortable doesn't do much for anyone's concentration.
Although all helmets on sale in the UK have to pass a safety test, do remember it only requires them to withstand the impact of an average weight cyclist travelling at 12 mph falling onto a kerb from a height of one metre. Good enough if you just fall off your bike, but it certainly doesn't mean they make you invulnerable to collisions with cars.
Bicycle Safety Clothing
For most trips, it probably isn't necessary to invest in the racing cyclist's skin-tight clothing - unless, of course, you want to - but there are some items of protective wear that you might want to consider to add to your safety. Gloves are probably top of the list as even a relatively light fall can end in a nasty set of cuts and grazes, so a pair of gloves - strong enough to protect, but thin enough not to impair your movements - are a good investment.
Like helmets, the fit is important. Although they tend to be sold principally for children, some adult riders also like to wear knee or elbow pads to avoid the dangers of gravel-rash if they come off on the street; a few kinds are available with reflective inserts, contributing to your safety twice-over.
Be Seen, Be Safe
"I'm sorry mate, I didn't see you" has been firmly enshrined in cycling folklore as a comment on how, for the motorist, bikes and their riders can often be unnoticed road-users, particularly on busy urban routes. However, some cyclists don't exactly help themselves when it comes to being conspicuous; reflective waistcoats by day and good lights by night are really useful items for any bike-rider.
Using rechargeable batteries in your lights is a great way for any eco-conscious, night-riding cyclist to stay safe and avoid the environmental consequences of disposing of the ordinary zinc-carbon kind - while ensuring that you remain visible to other people on the road.
Cycling has a tremendous appeal for the eco-traveller, whether for commuting or pleasure, and few modes of transport offer quite so much in terms of environmental, personal and societal benefits. However, while getting more people cycling can help reduce congestion, tackle climate change and improve their health, it also exposes more and more people to the risk of accidents, making safety awareness amongst cyclists a serious issue.
Clearly, choosing the right equipment and then using it to its best is an essential part of survival on Britain's busy roads, but for all the developments in technology, developing good road sense will probably always remain the cyclist's best safety device!
You might also like...