Canal and Boating Holidays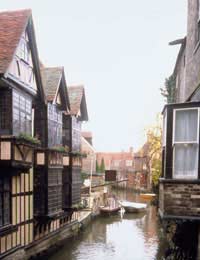 For a holiday of sheer un-bridled luxury and indulgence, the thought of a leisurely round-the-world cruise is hard to beat, but for most of us, it is probably going to remain in the realm of things-to-do-if-I-win-the-lottery. However, everybody can enjoy the boating experience – admittedly on a somewhat more modest scale – and without much cost to purse or planet. As low impact holidays go, boating holidays have much to recommend them and there is likely to be one to suit, however limited or extensive your nautical competence.
In Home Waters
Britain has over 3,000 miles of canals and navigable rivers to explore. Much of the canal network was built around 200 years ago for commercial transport but as rail and road took over this role, for a time the inland waterways went into decline, though today their popularity for leisure use means they now carry more boats than ever. Although a self-drive narrow boat is the usual holiday choice, canals are also popular with other types of craft including small motor boats and canoes.
The main canal system is very extensive, stretching from the South of England to Ripon in North Yorkshire and westwards through the industrial heartlands of the Black Country and the Potteries into Wales. There is also a separate network of canals in Scotland. In general, the closer you stay to home the less damaging any holiday is likely to be and with so much of the population within a short distance of the inland waterways, a British boating holiday certainly fits the bill on that score. No prior boating experience or qualifications are needed, though the hire firms give basic instruction on handling the boat and working the locks you will encounter on your trip – and some centres offer formal training holidays.
If canal boats are not for you, then companies such as Moores have modern motor cruisers for hire on the Norfolk Broads and if rather than freshwater, it is the sea which beckons, a number of coastal harbours offer sailing holidays. Many of them also run training courses towards some of the sport's recognised qualifications. Alternatively, for some of the ultimate in eco-friendly British boating breaks, you can join the Wildlife Trusts Partnership basking shark expedition, aboard their 40ft yacht, or the Whale and Dolphin Conservation Society along the Welsh and Scottish coasts.
Distant Shores
For the aspiring boater looking to travel further, there are a variety of opportunities to consider. For example, in addition to the UK holidays, you can also cruise on the inland waterways of Ireland and France, and some companies can even have you yachting in some of the world's most exotic locations including the Seychelles, Thailand and Vietnam. If the idea of really learning to sail appeals – but the prospect of grey British skies does not – then a number of companies have tailor-made instructional holidays in warmer climes, such as the Greek Islands, the Adriatic or the Bahamas.
Safety, Relaxation and the Environment
Of course, water can be dangerous, so safety precautions must be followed and lifejackets worn as appropriate – especially on the open sea – though canals, which tend to be very shallow are generally safer places for the inexperienced, children and the infirm. However, as a relaxing, leisurely way to get away from the pressures of modern life, canal and boating holidays really do hit the spot. With narrow boats having a maximum speed of about 4mph, a range of around 25 miles a day and taking anything up to 20 minutes to negotiate a lock, "hectic" is not a word which springs to mind! Whichever stretch of water you choose, the opportunities for wildlife watching are unparalleled and British Waterways – responsible for the maintenance of most of the UK's canal system – run regular annual surveys, so everyone's observations are of real value. In addition, an exciting environmental awareness initiative by the British Marine Federation and the Royal Yachting Association – "The Green Blue" – has been established to help anyone interested do their bit to reduce the impact of boating.
One of the greenest ways to travel – albeit rather slowly – boating offers a unique way to experience the culture, history and nature of the places you visit, in a way that no other form of transport can. But then as Ratty famously said in Kenneth Grahame's 1908 classic, Wind in the Willows, there really is "nothing – absolute nothing – half so much worth doing as simply messing about in boats."
You might also like...