How Does a Fuel Cell Work?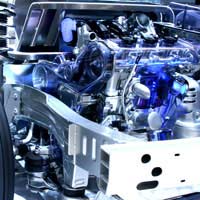 When it comes to eco-travel, the fuel cell has come to enjoy a reputation close to that of the Holy Grail as a wondrous, hidden device which holds the answer to all mankind's woes – at least in terms of clean energy! Despite this almost mythical status, the science behind fuel cells is surprising simple – and the idea itself is nowhere near as modern as many people think. The reality is that this "revolutionary" technology is – at least in principle – not much more complicated than a torch battery and owes its origins to the wonderfully innovative genius of the Victorians.
Fuel Cell Basics
It was well know in the scientific circles of the early nineteenth Century that if you passed electricity through water, it split into its constituent elements – hydrogen and oxygen. However, Swansea-born Sir William Grove started thinking about a way to turn the whole thing on its head. It seemed to him that if it worked in one direction, it should also work in the other; reversing the idea – combining hydrogen and oxygen to make water – should let you producing electrical power along the way. After a spot of experimentation, Grove built the first practical version in 1839, then calling it his "gas voltaic battery." Charles Langer and Ludwig Mond came up with the term "fuel cell" some fifty years later – and the name stuck.
Although there are several types of fuel cell, they all work in much the same basic way. Inside the cell are two "electrodes" and hydrogen – or a fuel rich in hydrogen, such as ethanol – is fed over one, while the oxygen is fed over the other. Electrons – which naturally have a small negative electric charge on them – are separated from the hydrogen and are drawn to the oxygen and the positive charge on other side of the cell – rather like two magnets attract each other. The construction of the fuel cell stops them from travelling along this route directly within the cell itself, instead forcing them go along an electric circuit to reach the other side; an electrical current is simply the movement of electrons – and thus the fuel cell makes electricity.
Strictly speaking, the fuel cell is an "electrochemical energy conversion device" – which may sound a little intimidating and overly-technical, until you remember that so is a battery! However, there is one big difference between a fuel cell and what you load into your torch. While a battery stores all its chemicals inside its own casing, fuel cells are designed to have a constant flow of chemicals entering them. As we all know, eventually the battery dies and can produce no more electricity; the fuel cell however, continues to provide power for as long as it is fed with what it needs.
Of course, understanding the basic principle is simple; making the sort of system which can be mass produced, cheaply and reliably enough to power a new generation of cars and buses is a little more challenging.
Cleaner Energy
Fuel cells have a number of benefits compared with more conventional power sources. For one thing, they can be used in a wide variety of applications, from a full scale power station producing electricity to recharge a vast number of electric cars, to forming the on-board engine of a new range of truly alternative and eco-friendly vehicles. In addition, they have a well-justified claim to providing "clean" energy; the only by-products from a fuel cell using pure hydrogen are heat and water – usually as steam – and even those driven by other suitable fuels produce vastly less harmful emissions than a conventional engine.
We may still be a little way off driving around in "hydrogen-powered" cars – not least because at the moment they are very expensive to produce – but there is little doubt that the race is on to develop ones which can be made at a price everyone can afford. Some estimates suggest that the first could be in the showrooms as early as 2020. If so, petrol pumps may be a thing of the past soon afterwards. It is strange to think, however, that this potential transport revolution is based on a technology invented 37 years before Otto and Langen patented the first four-stroke engine – and 46 years before Karl Benz produced the first car!
You might also like...