Getting to the Airport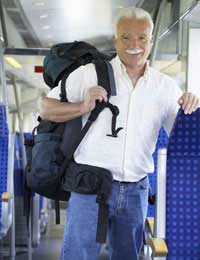 Having planned the greenest get-away that you possibly can, checked out the eco-credentials of the travel company, opted for the fewest number of stopovers, chosen the most ecologically sound airline and prepared your carbon offset, all that remains is to get to the airport.
Even the most eco-aware traveller will have a bit of necessary baggage, so walking or cycling are probably out of the question – even if you do live close enough – so what can you do to stay on message, right up to the departure lounge, especially when a car is just so convenient?
Bus, Coach or Train?
We all know the eco-pedigree of public transport, but unfortunately for this particular job, it may not always be the easiest option. While many of the world's airports are very well set up to link up with their respective bus or train networks, a surprising number are not – and, sadly, rather too many British airports fall into this group. However, where the rail-heads exist, or there are reasonably close railway stations, taking the train does make a lot of sense.
Even where it simply is not possible to travel direct by train, there are often good bus links from the mainline station – though of course, this means hauling your luggage about – not a hugely attractive prospect if it is the family holiday, with fractious children in tow!
Buses or coaches frequently offer direct services, often with the advantage of reasonably local pick-up points, so it may be worth looking into it as an alternative – though the travelling time is often longer. If you do travel by coach or bus, try to pick a company with an electric fleet or powered by biodiesel if one is available in your area. Road transport as a whole accounts for around 20 per cent of the UK's current CO2 emissions, so even though conventional buses are more fuel efficient and generally greener than cars, they are responsible for some of those emissions.
Where public transport does fit in with you travel plans, you certainly will be doing your bit to stay green all the way – if just one in twenty of the UK's car journeys were made by bus or train instead, a quarter of a million tonnes of pollutant emissions would be avoided annually.
On Four Wheels
In some areas, travel companies themselves have responded to the growing needs of environmentally aware travellers and laid on minibuses and people carriers for their clients. The service seems to be generally very popular and is often provided free or at a fairly modest cost, making it economically as well ecologically attractive. A similar idea has also been adopted by many hotels and tourist resorts, as well as on a more commercial basis by taxi operators. As well as being cheaper than a single-occupancy taxi to hire, it can offer single travellers a valuable measure of companionship and security in unfamiliar surroundings.
If the car is beginning to look like the only practical option, it may still be possible to make it a shade greener – perhaps by arranging a lift with a friend or neighbour travelling in the same direction, or by car-pooling with other fellow travellers. Even in the event that you alone end up using your own car, all is still not lost, as there are a few practical ways to green-up your motoring, including making sure your car is properly tuned, the tyres are at the right pressure and driving to minimise fuel consumption.
With so much else to consider planning any holiday – and particularly one aiming to be as eco-friendly as possible – there can be a danger that the simple matter of how you get to the airport slips through the net. Fortunately a bit of thought should allow you to find the greenest way, however you eventually decide to make that part of the trip – and you can settle down to enjoying your time away with a clear conscience.
You might also like...