Carbon Offsetting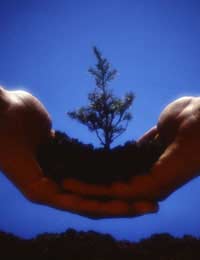 The idea behind carbon offsetting is a very simple one – for every tonne of carbon dioxide (CO2) you release by everyday activities such as driving a car flying or heating a building, a tonne is removed on your behalf, cancelling out your impact. Of course, this does not undo the harm your trip has actually caused – "your" carbon is still out there – but it does cut the total amount of CO2 which would otherwise have been in the atmosphere by an equivalent amount. All that is required to make it work is an accurate calculation of the emission you caused in the first place, so that the right quantity of carbon can be offset to redress the balance.
Offsetting Schemes
There are numerous providers, particularly in the UK, Germany and the US, offering a variety of schemes to help you pay your environmental debt – the company typically calculating the emissions for you, which you then pay to have offset via a donation to one of their projects. When carbon offsetting first began a decade or so ago, many of the earliest schemes involved forestry and tree planting, based on trees ability to sequester – lock up – carbon, collecting it from the air during photosynthesis as it grows. As the popularity of carbon offsetting has grown, especially over recent years, the projects have generally become more sophisticated, now often involving energy efficiency schemes in developing countries – covering everything from low energy light bulbs to wind farms!
Does It Work?
The principle is unquestionably sound – but like so many things, the Devil is in the detail and as you would expect, some schemes are better than others. Although the UK Government has recently announced moves to set voluntary standards for carbon offsetting schemes, at present the whole sector is unregulated and to some degree lacks transparency. The offsetting cost per tonne of CO2 is entirely a matter for the provider to set and there are no rules dictating what proportion of the money paid goes to the scheme itself and how much can be used to defray administration costs. In addition, with the best will in the world, being absolutely sure that an energy efficiency project in, say, Ghana actually has reduced the equivalent amount of carbon as your long-haul family holiday produced is often not exactly easy. It will, of course, have helped – but verifying that it has done enough can be more difficult.
Some of the forestry schemes too would appear to be less beneficial than first thought, which largely accounts for the switch towards more energy-based projects over the past few years. It seems that in some places the benefit that trees bring by trapping carbon may be outweighed by their tendency to hold heat at ground level – like a blanket. Trees cool the planet by reducing atmospheric carbon, but also by transpiring water into the air, which increases cloud-cover and in turn helps to reflect some of the heat of the sun back into space. To be effective, trees need to be planted in the tropics, where this effect is strongest; in the cooler regions of the globe, winter snow is very effective at reflecting solar energy so planting trees here can obviously hamper this.
It is not all bad news, however. Most of the studies done were American and in the US – and many parts of Europe – snow-fall is a far more reliable feature of winter than it is for the UK, making British tree-planting a better bet, especially if the trees are broad-leafed rather than evergreens.
The Opposition
Individual schemes aside, many environmental organisations are opposed to the whole concept of carbon offsetting, believing it sends out entirely the wrong signal and discourages people from addressing the core of the problem at its source. Rather than encouraging us to adopt a "business-as-usual" approach and simply buy our way out of the problem, Friends of the Earth, the Green Party and others argue that we should be examining our lifestyle and making real carbon reductions for ourselves.
To counter some of the problems surrounding this issue, the UK Government are expected to launch a scheme in the autumn of 2007 to issue quality marks to those offsetting providers which make use of internationally certified carbon credits. This should stop the risk of well-meaning consumers being ripped off by unscrupulous operators and bogus schemes, as well as offering a way of verifying that the money is genuinely being used to reduce the carbon problem. The benefit of this initiative in a currently unregulated market is clear; in January 2007, only four offset providers met these new guidelines - Pure, Global Cool, Equiclimate and Carbon Offsets, according to the Department for Environment, Food and Rural Affairs (Defra).
Increasing numbers of travellers are seeking to limit the environmental impact of their journeys and carbon offsetting schemes offer a straightforward and appealing way to do it. Questions over individual schemes, or even the whole issue, should not blind us to the simple fact that doing something positive – however little – must be better than doing nothing and anything which encourages people to be aware of their own carbon footprint can only be a step in the right direction.
You might also like...